"Contraction and release," said Martha Graham. She was describing the basis of her iconic modern dance style, but she may as well have been talking about all of contemporary dance. The relative newcomer to the ancient art of movement is as much at home on television as it is in black-box theaters; its pioneers unleashed a rebellion and new ways of using the body that continue to magnetize both dancers and audiences.
Capturing a Century
There are so many influences on contemporary dance it can be hard to define. An examination of its history and development is the simplest route to an analysis and appreciation for the form. The brash Americans are mostly responsible for the revolution in classical dance that gave rise to a new art form: modern dance. Modern derived a lyrical sensibility and explosive lower body moves from classical ballet but worked from a more grounded, less vertical and lifted foundation. The earliest modernists were rebels who took inspiration from European dancers but developed a dance form uniquely their own.
Today's contemporary dancer draws from this rich heritage of giants in the field and a wider range of global influences, to speak a world language without words.
The Masters of the Dance
The experiments of modern masters are echoed in the movements, stylistic flourishes and mash-ups of many disciplines that enrich contemporary dance today. Graham, Cunningham and Horton are each worth noting for different reasons.
Martha Graham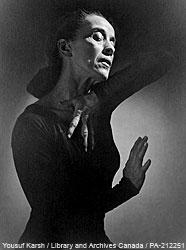 Martha Graham is often credited as the founding mother of contemporary and modern dance. As a dancer and choreographer for over seven decades, she brought modern dance into the mainstream. She was the first dancer ever invited to perform at the White House and receive a medal of freedom.
Ironically, she hated the terms "modern" and "contemporary," as she believed dance styles were constantly evolving and changing according to the times. She didn't want her choreography or her ideals boxed in, and this has continued to be a running mindset among contemporary dance choreographers who have followed in her footsteps.
Merce Cunningham

Born in Washington in 1919, Merce Cunningham danced for Martha Graham's company until he formed his own company in 1953. He and his romantic partner, John Cage, created what is known in the contemporary dance world as "chance operations." It is based on the Chinese idea of casting your fortune on a hexagram. The number 64 in music, for example, allows a first cast for the first note, a second for the second, and so on until an entire song has been composed this way. Cunningham applied the same principle to dance, using a chance series of movements. He cherished this sporadic style of choreography, and it continues to exist in studios across the nation today. In his contribution to the modern version of contemporary dance, Cunningham was instrumental in its technological, 21st century origins. He helped develop a dance software program called Danceforms, which allows choreographers to create dances using a computer.
Lester Horton
Lester Horton was known for infusing elements of Native American dance and modern jazz into his contemporary dance routines. He went on to train some dance greats, including Alvin Ailey, and he founded the Dance Theater of Los Angeles. While his company is no longer together today, his technique and distinctly different style of choreography are still the pedagogy of choice in many conservatory schools and dance studios.
Tracing the Origins
These three dancers are among the most critical influences in the beginning of contemporary dance. However, none of them created a style out of whole cloth. Each was a trained dancer working from centuries of discipline and imagining those classic moves into something new. Ballerinas will quickly notice the strong influence of traditional ballet, and folk dancers will immediately recognize storytelling tendencies. Martha Graham's insistence that contemporary dance is always evolving to incorporate new music, new movement styles, and new philosophies encompasses the defining characteristic of contemporary dance. Each dancer's inspiration varies according to time and place, and to that indefinable inner voice, the music of the heart.
---
Merce Cunningham
Merce Cunningham is one of the most revered choreographers of the 20th century, having founded the Merce Cunningham Dance Company, which still thrives today. He is sometimes credited as being one of the pioneers of modern dance, and has also influenced other artistic genres from music to architecture. Cunningham continues to be well-respected in the world of dance.
Beginnings
Born in Washington in 1919, Merce Cunningham was the second of three boys. His father was a lawyer and his brothers decided to take a similar path; however, Cunningham fell in love with dance at the age of ten and took a very different road professionally. Martha Graham discovered Cunningham when he was dancing in Seattle during the late 1930s, and invited him to become part of her company. Cunningham accepted the offer and moved to New York in the fall of 1939, where he began an illustrious six-year career dancing under Graham's influence. He also enjoyed performing in a 1944 solo concert, where he began collaborating with famous composer John Cage. Cage went on to be a romantic partner, and their long term commitment to one another was a great platform to also continue to collaborate together creatively.
Merce Cunningham Dance Company
In 1953, Cunningham went to work as a teacher at Black Mountain College in North Carolina, and then went on to form his own dance company. He choreographed hundreds of dances for the Merce Cunningham Dance Company during the remainder of his life, and also performed himself until he was well into his 80s. He danced until his death - having just created a new piece to commemorate his 90th birthday and views on life - which was performed in April of 2009 in Brooklyn. The dance company has always been known for having a very distinct style, and is bold in its moves and material. The company used to travel in a small bus, dancing their hearts out while living a very unglamorous lifestyle. This all changed in 1964, when the group took their first international tour. On that trip, they performed throughout Europe and Asia, and this led to a string of bookings all over the world. You can still see the dance company perform today, as they continue to tour and inspire future generations of dancers.
Unique Style
One of the reasons Merce Cunningham's career was so brilliant is that he was not intimidated by others. He eagerly collaborated with others, starting with John Cage and extending his reaches out to visual artists such as Robert Rauschenberg and Andy Warhol. While dance can tell a story about anything, Cunningham's subject matter was always dance, no matter how it was presented. Cunningham was also wild about technology. His imagination was ageless, and he even created a top choreography computer program called DanceForms. He often made his creative work available via open source licenses so that it could be enjoyed by multitudes of artists the world over. Lastly, he participated in a weekly webcast to give audiences an inside peek at the dance company rehearsals and his unique and captivating teaching style. To learn more about the legacy Merce Cunningham left behind, you can visit the dance company's official website, which will provide you with all information from booking information to where to make a donation to his personal foundation. Pay a visit to the site if you are hoping to be inspired and touched by the beauty of dance - it will not disappoint. If you become exceptionally motivated to move after browsing, you can take an open studio class if you are in the area for around $15.
Your Sincerely
Olivia Cassidy
Associate Principal - HR and Curriculum Performance